In the original Mrs. Brown's Boys books, Francis "Frankie" Brown is the 2nd son to Agnes and Redser Brown and brother to Mark , Simon , Dermot , Rory and Cathy .
in the BBC Mrs. Brown's Boys, he does not appear at all as for recasting
Agnes Brown
Edit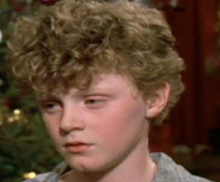 In the movie, Agnes Brown, Frankie is only 13. He skips school to play cards, like his father.
Mrs.Brown's Boys Books
Edit
In "The Chisellers", by the time they got back to the house, Frankie was gone, and had taken everything, including Mark's new businessman's outfit.
In the epilogue if the book "The Chisellers" Frankie Brown died.
A young police constable walking his beat accidentally discovered the body of Frankie Browne beneath sheets of newspaper in an alley at the edge of Chelsea, on a freezing November night.
The young man's body lay frozen in a foetal position on that minus four-degrees night.
An autopsy would later reveal a number of facts : for instance that Frankie had died of hypothermia, that he was a long-time drug abuser, and that he had probably not eaten for at least three days. Modern  was amazing more and more people with the secrets it could garner from a frozen corpse.
On this occasion however, there was one secret science could not extract.
For the last eight years of his  and tragic life, Francis Browne had lived under the name of Ben Daly.
Before burning the dead man's  clothes, an assistant of the coroner's office went through the pockets in search of anything that might be valuable. They were empty but for a dirty, crumpled envelope upon which was written 'Dublin Papers'.