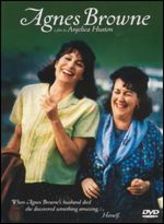 The unexpected death of her husband sends a woman and her seven children, ages 2-14, into emotional turmoil and financial crisis in 1967 Dublin. She is forced toborrow money from a ruthless loan shark to make ends meet. She faces her dismal existence by selling fruits and vegetables at an open air market where she spends time with a best friend who gives her encouragement. Wishing to escape her existence, if only for a short time, she dreams of finding enough money to attend an upcoming Tom Jones concert. She realizes her dream by accepting her first date with a French baker. Her kids pool their money so she can buy a new dress. Of course, eventually the family has to face the loan shark, but this is a movie where obstacles are maybe too easily overcome.
Singer Cliff Richard was due to have a cameo in the movie, but Cliff, who is known to be deeply religious, wanted a guarantee that none of the children would say the word "fuck" in the movie. When they refused to change a word of the script, Cliff dropped out and was replaced by Tom Jones.
Brendan O'Carroll, who wrote the novel on which the movie is based, has a cameo in the movie as a drunken man who appears frequently.
Jennifer Gibney, who went on to play Cathy Brown in the TV series, plays the role of Winnie the Mackerel.
Section heading
Edit
Write the second section of your page here.